1

0th August 2010





Jogjakarta, yes it's my parents hometown
.
They've been spent their half life in this city. Many members of my family live there. I love this town so much!
Jogja is famous as one of the main tourism and travel destinations in Indonesia. This city also famous as the center of culture, craft, and education as well.
Every time I'm in this city
I found composure, especially in my grandparents village, it's really peaceful
.
Usually I went there by train or plane. But I prefer train than plane. 'cause you can see many beautiful views (like farm, group of village, mountain, river, hill, and many else).
In the train you can also buy cheap Indonesian food, like pecel, nasi rames, gorengan, pop mie, and many else.
4.30 a.m I arrived at train station of Jogja (Tugu Train Station), especially when I arrived there in the morning I could feel the different atmosphere. After that my parents and I ate Indonesian food named soto. And then we went to bus station by

becak

. Becak is a Javanese traditional vehicle.
Tugu Train Station:
On the way I saw
many gravities on almost every walls in Jogja streets
.
Those made by Jogja's artists and Jogja society
.
But those aren't regular gravities. Some of them have meaning.
Jogja society are taught to made gravity by the artists. And the government agree about this activity.
I
arrived at my grandparents house about 5 p.m . and the next day
I went to Baron Beach with my dad by public vehicle
.
On the way I saw
many big caves and those are truly horror

.
My dad said that those caves use for people who acquire magical power.
Finally we

arrived at

Baron Beach

. (

For your info: Baron Beach is located on the south coast. Javanese folk believes there's a Goddess, name "

Nyi Roro Kidul

"

or in English "

Goddess of South

" who take in hand all of beach in south Indonesia. And she forbidden to anybody do not wear green cloths when you come there.) We went straight to the sea water. There was

a big coral stone with the puree on it.

We went into the big coral stone with a guide tell about this coral. But

my dad constantly told me about his story in this coral. He said that when he was a child, he often played in this beach

.

One day when he went into this big coral, the sea water also came out.

So he stucked over there.

He thought that he would be dead. But suddenly he saw light stairs and then immediately he came to the light stairs. and he survived! Fiuh.
After that
I
was gathered shellfish
.
At 3 p.m
we had a seafood lunch with the cheap cost
.
But it's really yummy. After that we searched for bus, but no bus there.
So
we were walking through 3 hill to found out the bus
.
that was so damn tired! But we still didn't find the bus. And then we took "

ojeg

" to my grandparents house.
Hell yeah we arrived! :'''D
The next day my big family had a event to
r
eminisce of my grandpa's grave.
In the morning my dad, my uncle, the neighbors came to my grandpa's grave, then they beautify the grave. I've got nothing to do, I just watched they worked. Then
I slept over behind somebody's grave. holy crap.
My favorite time in my grandparent house are listening music and reading book on the tree or on the hay in the cow house =)
i'm in the cow house

-->
have you heard about

"

belalang goreng

"

or "fried locust"? that's a typical
food of Jogja. it's yummmy.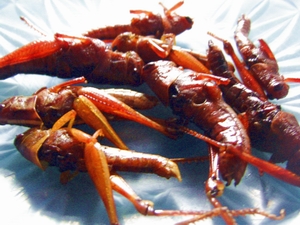 at Baron Beach
with my dad
my grandma's goat. =(